I had been away from any form of bodywork for many years and Viviana came highly recommended from a respected source.

Viviana has great sensitivity and intuition, which provided a broad palette of expertise to meet my needs. My discussions and feedback with her were the avenues that determined the direction of my sessions. For me she moved from massage to Feldenkrais as it became clear that it would best facilitate my particular situation. She helped me in many ways. I am truly thankful and feel blessed.
Michael Sobiloff
Marin County, CA
Viviana Diaz is an extraordinary massage therapist. She's been able to accommodate my changing needs from one session to the next for years. Her touch can be gentle yet firm and when doing massage she is extremely wonderful at digging deep and releasing what is locked in your muscles. I have received some of the best and most therapeutic massages from Viviana, and hope to have many more!

I am also very grateful for my Feldenkrais work with her as I have learned so much about my body and how it functions.
Shellen Lubin
Director/Voice Instructor
NYC, NY
I've been going to Viviana for massage therapy twice monthly for over five years and I keep going back because her touch is blissful. She listens carefully to whatever it is I need each time I see her and she varies her pressure and style of touch accordingly depending on what i need. At times her massages are slow, deep, still, long - always quiet, always sensitive.

I know she's also a Feldenkrais Practitioner and sometimes integrates some of those techniques into my massage. Whatever techniques she uses I leave feeling taller, feeling as if my long muscles have been 'ironed out'.

Sometimes I feel super relaxed and sometimes invigorated. Also, her studio is spacious, clean and soothing, which i really appreciate.
Bridget Scadeng
Berkeley, CA



I came to Viviana for Massage then Feldenkrais with a very specific pain in my low back on the right side - with great patience, capable hands, she helped me learn why i was experiencing so much pain. This new knowledge revolutionized my own approach to my body - it was not longer about "that pain in my back" but instead, that pain in my back that is connected to my other body mechanics, and even my own mental conception of what my body is supposed to do and not do.

Viviana helped me immensely, and one of my favorite elements of working with her is her clear focus on what is going on in my body - she seems to have this ability to read what is happening even before i might tell her how i perceive a given action or touch. Yet, even with her innate intelligence, she is a careful and methodical teacher: Viviana guides the process of self-understanding in such a clear way that you come away from each session with a new sense of yourself - and for me this happened on many levels.

Viviana is truly amazing - working with her is an experience you will not soon forget - she is able to help you begin your journey of solving mysteries about your own body that may have been haunting you for years, without you even knowing it. And once you solve those mysteries, a whole new life awaits you- in my own experience this has meant a renewed awareness of how I move through the world and why - and a motivation to stay focused on how to move in such a way that I am nurturing myself each day.
Megan Stelmach
Berkeley, CA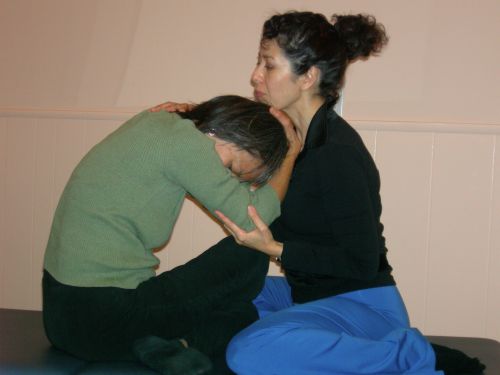 Viviana is an extraordinarily gifted Feldenkrais practitioner and a true treasure to find in the Bay Area. She exudes a calm, steady presence, mixed with a deep passion and knowledge of her craft. Her warmth and ease sets the tone for your healing to begin....even before assessment and touch.

I sought out Viviana for a chronic shoulder injury which was flaring mightily for several weeks. I could not put any pressure on it and found my sleep interrupted nightly.Viviana assessed my level of movement and ease, had me lean and reach, walk and turn. Then the healing began with Viviana leading my body through gentle movements of the arm, shoulder and rib cage.

If you are not familiar with Feldenkrais, imagine your system bathing in a brain/body re-set...also known as "Neuro-Muscular Re-education", which uses gentle and specific motion to unlock stuck patterns and set up more fluid and open pathways. It is amazing, and it is science.

In literally one session I was restored to pain-free movement, including lying down on the challenged shoulder, and four months later I am still feeling great!

I thank Viviana for "re-setting" me with Feldenkrais, and recommend her highly. She's the best!
Debra Sue Kelvin - Acupuncturist
Berkeley, CA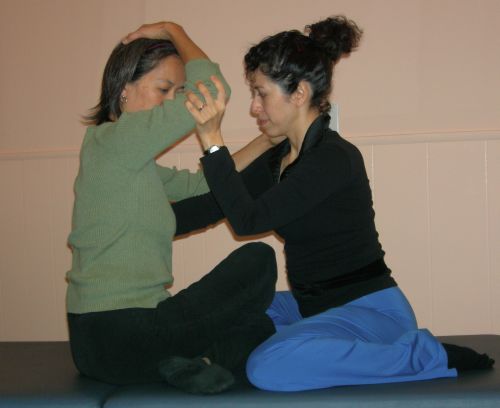 I'm not one to write reviews, much less a review of this kind, but I was compelled to do so after my last session with Viviana. I have visited Viviana a number of times in the past for her Feldenkrais experience, and she had always proved herself to be an extremely intuitive practitioner. This last session exceeded all expectation. She worked at length along my entire spine and I have to say I never felt anything like that before. Thank you Viviana, for the gift of lightness, recalled body memory, and ease of movement.
Deborah Albre
Marin County, CA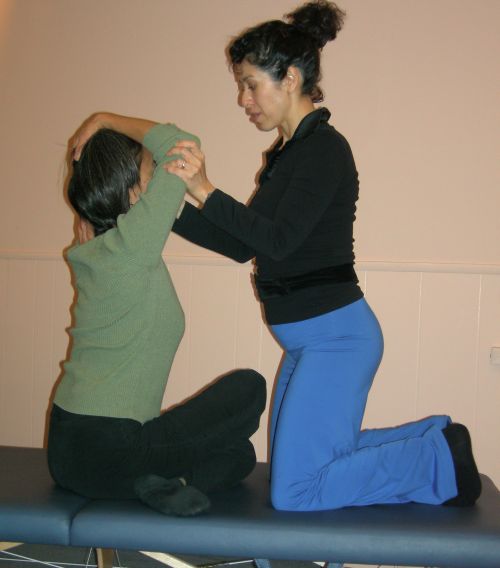 I had been suffering with back pain for a year and a half before I was treated by Viviana. A friend of mine recommended Feldenkrais as a way for relief. Feldenkrais is the practice of body motion capable of creating or recreating symmetry of motion when that motion is impaired by pain, as in my case. Believe me, I had tried chiropractic, acupuncture, physical therapy mostly to no to moderate success, respectively.

Viviana Diaz is caring, gentle, listens well, and very competent. I was treated at her home in a very spacious studio that is well equipped with table, towels, pillows, etc. I had read up on Feldenkrais methods a little before I saw her for the first of six session. What I didn't expect was by the second session she had identified a major cause of my pain and we worked to correct the problem and over the sessions my pain had diminished considerably.

I received instruction and exercises that I continue to perform daily to this day. About a month after I was treated by her I was pain free. Somebody wrote she is a miracle worker, to which I must agree. I often thank my friend for encouraging me and it was my good fortune that I called upon and was treated by Viviana. I only wish all the professionals I see were as good.
Tom K.
El Cerrito, CA